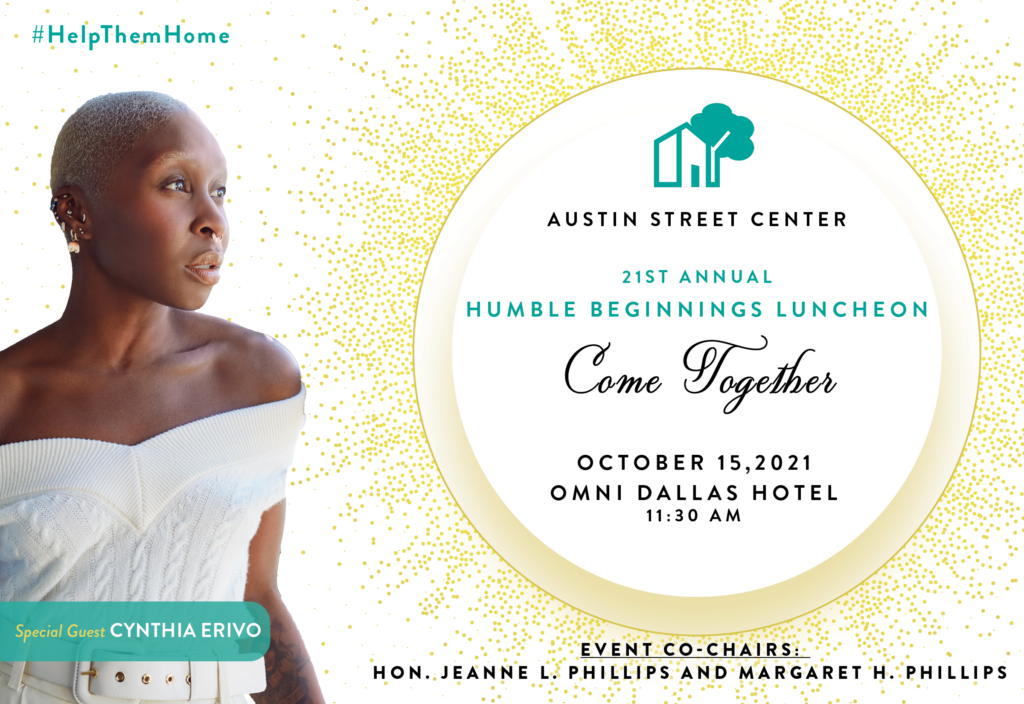 2021 Humble Beginnings Luncheon and Maggie's Challenge Celebration
Celebration on Thursday, October 14th at 6:30-9:30pm at Jose on Lovers
Luncheon on Friday, October 15th at 11:30am at The Omni Downtown

In honor of her father, David M. Phillips, a devoted supporter and former board member of Austin Street, Luncheon Co-Chairman Margaret H. Phillips has created "Maggie's Challenge" with the goal of engaging the next generation in Austin Street's mission. All gifts made (& tickets purchased) through "Maggie's Challenge" will be matched up to $50,000 thanks to a generous supporter.
Through Maggie's Challenge we hope to develop a cadre of new supporters for Austin Street, through its latest initiative, The Young Professionals Group, who works to drive awareness of the issue of homelessness and assist Austin Street with its mission.  
We hope to come together, not just as a City or supporters of Austin Street Center, but as generations whose collective work is helping to make Dallas a better place to live, work, and play. 
Maggie's Challenge Celebration
Maggie is excited to host all of you at Jose on Lovers Lane on Thursday evening for dinner, a complimentary bar, dancing and more! We hope you join us in an evening of celebration to honor the incredible work of Austin Street Center. We look forward to gathering professionals and friends together around our mission of ending homelessness in Dallas. We invite you to share this invitation with others in the community who are interested in joining us. Please reach out to Elizabeth Ashmore (Elizabeth.ashmore@austinstreet.org) or Maggie Phillips (mhphillips26@gmail.com) with any questions.  
Maggie's Challenge VIP ($700)
4 VIP Luncheon Tickets (includes preferred seating)
4 Tickets to Maggie's Challenge Celebration at Jose (3 hour open bar, dinner, dancing)
Maggie's Challenge General ($200)
1 Luncheon Ticket
1 Ticket to Maggie's Challenge Celebration at Jose (3 hour open bar, dinner, dancing)
Maggie's Challenge Luncheon Only ($125)
1 Luncheon Ticket
Maggie's Challenge Celebration Only ($125)
1 Ticket to Maggie's Challenge Celebration at Jose (3 hour open bar, dinner, dancing)
Waldo Mack Abbot V
Dean Addy
Emily and Fred Addy
Peter Addy
Tommy Addy
Byron Alley
Gina Alley
Stephanie Alley
Haley Anderson
Ms. Sarah Axmann
Connie and Nick Babikian
Courtney and Benton Bagot
Edward Arthur Banner III
Andrew Blair
Jack Blair
William Blair
Charles V. Branch
Sarah Branch
Arthur Brousseau
Lizzie and Joe Bumpas
Hannah Bush
Joseph Bush
Amanda and C.J. Cacheris
Annabel Clark
Charlotte Clark
Lili Clark
Forrest Compton
Laura Lee Compton
Lamar Cooper
JoAnne and Matthew Decker
Ms. Catherine Dedman
Ms. Nancy Dedman
Calee Dillon
Jessica Jones Donnell
Andrew Einspanier
Sarah Einspanier
Sarah and Finley Ewing
Abby and Jimmy Gallivan
Mr. and Mrs. Charles Gigliotti
Carrie Gillespie
Christina and
Todd Goldberg
Annie and Teal Griffeth
Alexandra and Ford Halbardier
Avery Hall
Getty Hall
Kellam Hall
William Hall
James Hancock
Katherine Hancock
Mary Margaret Hancock
Grinnan T. Haskins
Henry Haskins
Maribel Helland
Marisa Helland
Abigail Holman
Caroline and Forrest Holt
Lexie Hood
Maggie Hood
Luke Hoyl
Margaret and
Grayson Hughes
Madison and John Isner
Caroline Jones
Mary Chambers Jones
April Gregory and Alex Katz
Mackenzie and Tyler Kleinert
TJ Klienert
Ali and Danny Koudelka
Bobby Koudelka
Teddy Koudelka
James Landen
George C. Lauinger
Patty and Joseph Lauinger
Caroline Lee
Matthew Lee
Ted Lee
Rhodes Legg
Kate Kutilek and Eric Leyendecker
Stewart Lill
Lauren Mariel
Cole Marlow
Markie and Chris McClain
Megan McClain
Charlie McKinley
Key McKinley
Audrey McManemin
Hayes McManemin
Ryan McManemin
Hannah and Wyatt Mesh
Meredith Mihalopoulos
Isabel and Trevor Miller
Matthew Miller
Morgan and Rhett Miller
Rosemary Miller
Jennifer Mitchell
Rachel and Angus Mitchell
Ms. Annie Moir
Molly Montgomery
Caroline Moore
Thomas Moore
Dimitri Morris
Nicole Morris
Price Mulford
Jordan Jones Munoz
Lucy and Will Murchison
Brynn and Matt Murphy
Michael Murphy
Adair and Robert Neely, Jr.
Randall Neely
Rebecca and Lincoln Neely
Caroline and Patrick Noonan
Emmanuel Nwakibu
Christiana and Brian Oketch
Jack O'Neill
Kristen O'Neill
Ali and Philip Patsley
Cody Patterson
Evie Peña
Tita Peña
Alison Perry
Christina and Frank Piasta
Jessica and Tyson Pinnell
Daniel L. Plumlee, Jr.
David Plumlee
Katherine Plumlee
Amy Prestidge
Cory Prestidge
Paige Prestidge
Andrew Rafkin
Dr. Britton Blough and Mr. Bryan Sansone
Cristina Schooler
Sam Schooler
Megan and Cameron Shepherd
Charlie Sikes
Sidney Sikes
Ellie Skochdopole
Connor Thomas
Electra Thomas
Maggie Thomas
Courtney Townsend
Heath Townsend
Daniel Trevino
Molly and Jack Vaughn, III
Piper Ann Vaughn
Jessica Turner Waugh and Dr. Jeff Waugh
Robyn and
Travis Wedgeworth
Allison Weil
Angela Turner Wilson and Michael Wilson
Claire and Lloyd Wilson
Emma Woodberry
Haley Woodberry
Margaret Woodberry
Matt Woodberry
Host Committee Listing as of September 28, 2021