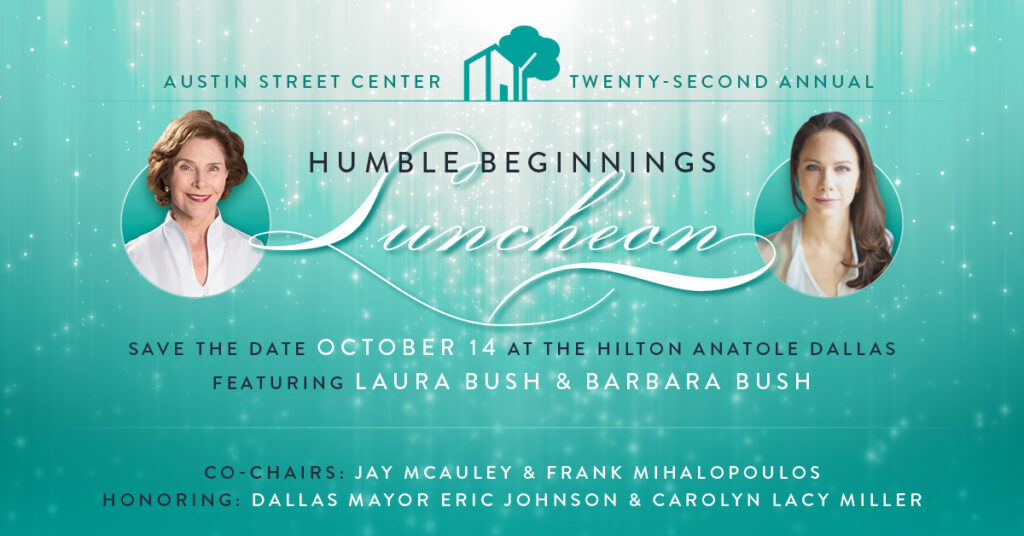 Humble Beginnings Sponsorship
Become a supporter of this year's luncheon and join us as we "Let Love Open The Door" to celebrate Dallas as a community that takes care of its own. Our goal is to significantly fuel Austin Street's vital work and its mission, to serve our most vulnerable homeless neighbors.
Sponsorship sales have ended.
PRESENTING SPONSOR | COMMITTED
Talent Underwriter for event
(20 seats) 2 tables of 10 – Head Table Seating (front of/center of house)
Valet parking for all guests
Individual print signage
Day of service opportunity with Austin Street Center
Inside front cover program acknowledgement
Listed as Presenting Sponsor on all event collateral
Individual social media post
Featured on event website
DIAMOND KEY | $ 50,000
Provides safe shelter, meals, and services for 500 clients for one week
(20 seats) 2 tables of 10 – VIP Seating
Valet parking for all guests
Individual print signage
Day of service opportunity with Austin Street Center
Individual social media post
Full page program recognition
Logo on Diamond level digital and print signage
Diamond level program acknowledgement
Featured on event website
RUBY KEY | $ 25,000
Helps build valuable financial reserves for the agency in the event of an emergency
(20 seats) 2 tables of 10 – Superior Seating
Valet parking for all guests
Ruby level social media post
Half page program recognition
Logo on Ruby level digital and print signage
Ruby level program acknowledgement
Featured on event website
SAPPHIRE KEY | $ 15,000
Helps cover unanticipated rising utility costs during extreme inclement weather
(20 seats) 2 tables of 10 – Priority Seating
Valet parking for all guests
Sapphire level social media post
Quarter page program recognition
Logo on Sapphire level digital signage
Sapphire level program acknowledgement
Featured on event website
GOLD KEY | $ 7,500
Provide safe shelter, meals, and access to essential services for 500 clients for one night
(10 seats) 1 table – Preferred Seating
Complimentary self-park for all guests
Logo on Gold level digital signage
Gold level program acknowledgement
Listed on event website
SILVER KEY | $ 5,000
Help provide extensive individualized case management, counseling, and after-care services for 40 participants of the Sisterhood Program for one week
(10 seats) 1 table – Select Seating
Complimentary self-park for all guests
Silver Level group listing on digital signage
Silver level program acknowledgement
Listed on event website
BRONZE KEY | $ 2,500
Help provide personalized education and employment support services for Austin Street clients
(10 seats) 1 table – Select Seating
Complimentary self-park for all guests
Bronze Level group listing on digital signage
Bronze level program acknowledgement
Listed on event website